The History of The Lord's Pantry began in 1989
In 1989, or so, the ministry of The Lord's Pantry began. Lucious Newsom was inspired after volunteering at the Mozel Sander's Thanksgiving dinner to create something in Indianapolis that would  feed folks in the area — body and soul — year round.
Assisted by numerous volunteers, Lucious' dream of serving the poor of Stringtown came true.  Whether providing groceries each Saturday along the sidewalk, from the bait shop or from a warehouse, those ministering to the underserved and marginalized on the near-west side of Indianapolis hoped for something more… they hoped for a building where those in need of assistance could be served.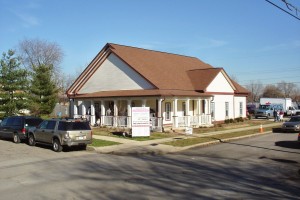 The History of Anna's House began in 2006
In 2006, the dream became a reality when Anna's House opened its doors for Thanksgiving dinner.  The building was named for Anna Molloy, friend of Lucious and all who joined in serving the poor of Stringtown.
Today, the ministry of serving the poor continues as volunteers come together each week to provide and support various outreach programs to the families of Stringtown. The generosity of volunteers and financial supporters allows The Lord's Pantry at Anna's House to continue to grow the dreams of Lucious and Anna.