Serving the families of Stringtown
The Lord's Pantry at Anna's House strives to enhance the lives of those we serve by empowering families through educational programs, nutritional assistance and financial support.
Through the generosity of many, we will continue to seek out and implement additional programs which will help families to become self-sufficient.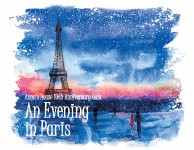 An Evening in Paris Friday, June 24, 2016 • Lucas Estate, Carmel Paris, France is known for many things…it's known as the "international capital of style" with many famous attractions. These things alone create a mouth-watering recipe for an excellent party, come find out what else Paris will be known for during this inspired affair.